Win - Dog Photo Frame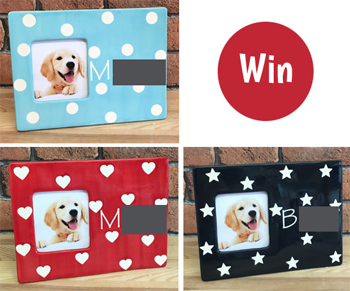 In our latest competition you can win one of these gorgeous hand painted, personalised dog photo frames.
These stunning ceramic frames are hand painted by an artist in the UK with the beautiful colours, designs and dog's name.
The competition is easy. If your dog's name is on the frame and you are the first to enter, you win it.
Two of the frames have names beginning with the letter 'M' and the third frame has a name beginning with the letter 'B'.
Free to play
Simply tell us your dog's name (if it begins with the letter 'M' or 'B') using the form below (please don't use the comments box at the bottom of this page. That is for comments, not competition entries).
The competition is now closed.
One entry per person. UK delivery only for the prize.
Please enter your address carefully. This will be used to send you your prize, should you be a winner.
And the winners are...

Molly - Jennifer Badger
Bella - Angella Willis
Monty - Maggie Warnett
Congratulations