Win - Tapestry Kit of your Dog
It's competition time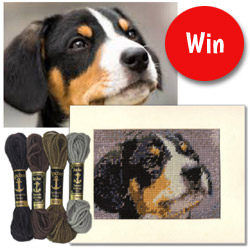 This month we are giving away one of these superb and unique tapestry kits made from your dog's very own photo. Woof!
With the recent craze for colouring in for adults, these kits will appeal to any hobbyist or adult looking for a great way to relax and unwind. And once it is finished you have a beautiful tapestry of your dog to enjoy and display.
With full instructions and everything you need to finish and frame your tapestry included in the kit, even a complete novice can enjoy this satisfying craft.
Whether you want to win this kit for yourself or to surprise a dog loving friend, we know you will love it.
Let's play
The competition is easy. Simply enter a gorgeous photo of your dog. We will pick our favourite and the winning photo will be made into a 5 x 7 inch tapestry kit.
To see the tapestry kits, visit Your Dog Tapestry Kit.
There are a few hints and tips to bear in mind when choosing which photo to submit. A clear head shot or upper body shot is best for these tapestries. Good colour and contrast on a simple contrasting background also produces the best results.
Free to enter. Simply fill in the competition form below, browse to your chosen photo and click 'Submit Entry'.
This competition is now closed.
One entry per person. UK delivery only for the prize. One winner will be chosen. If you win, your email address and house address will be used to contact you and to send you your prize so please type carefully.
And the winner is...
Judith Macinnes from West Yorkshire
Congratulations Judith, your photo was absolutely gorgeous. The kit is being made as we speak and will be on its way to you soon