Win a Snack-Duo Bottle
It's competition time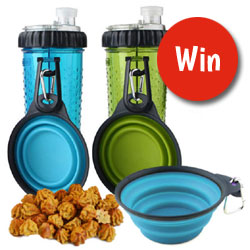 Snack-Duo is an innovative dog water bottle and snack container in one. This handy container is divided into two chambers - one for your dog's water and one for their treats.
Perfect for when you are out and about. It even comes with a handy flat travel bowl that magically pops out when it is needed. Woof!
Simply flip open the wide snap lid on the snack side to dispense dog treats or pop open the water-tight cap to pour your dog a refreshing drink into the collapsible cup provided. Great for every day walkies, agility, running, hiking, travel and road trips.
We have three green Snack-Duo bottles to give away.
Let's play
The competition is free to enter. Simply fill in the competition form below, answer the multi-choice question and click 'Submit Entry'.
This competition is now closed.
One entry per person. UK delivery only for the prize. The winners will be picked at random from all correct entries. If you win, your email address and house address will be used to contact you and to send you your prize so please type carefully.
And the winners are...
Natalie Elward from Cardiff
Karen Brewin from Whitby
Claire Horwill from Alton
Congratulations, your Snack-Duo prizes will be on their way to you soon