Win Tickets to All About Dogs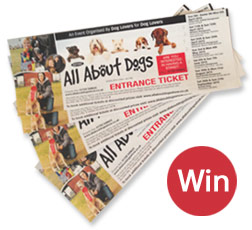 Now in its 6th year, All About Dogs is one of the largest dog events in the UK.
At All About Dogs you can enjoy lots of fun doggie games and activities including competitions, entertainment, demos, fun dog games, pet dog show, agility and shopping.
In 2015 there are 7 All About Dogs dates:
Suffolk - Sunday 5th April - Easter Monday 6th April
Newbury - Saturday 11th April - Sunday 12th April
Newark - Saturday 25th April - Sunday 26th April
Brentwood - Sunday 3rd May - Monday 4th May
Lincoln - Saturday 6th June - Sunday 7th June
Norfolk - Sunday 30th August - Monday 31st August
Hylands - Saturday 26th September - Sunday 27th September
Win tickets
We have 10 tickets to All About Dogs to give away to 5 lucky winners, who will each receive a pair of tickets to go to one of the shows being held throughout the UK this year.
Each winner gets x2 tickets so you can also take a pal with you for free.
Free to enter. Competition closes Sunday 5th April, so hurry.
All you need to do is answer the question below.
This competition is now closed.
Winners will be chosen at random from all correct entries. Good luck
To find out more about the show, visit All About Dogs.
The winners are:
Sam Bowman
Debbie Pearce
Colin Carr
Annie Gash
Sharon Hardy