Paw 2 Door Scheme

Wood Green launches new Paw 2 Door scheme

For the first time since opening its doors in 1924, Wood Green, The Animals Charity is rehoming cats and dogs without the need for them to come into the kennels.

The scheme, called Paw 2 Door, has been launched in a bid to shorten the waiting lists of animals waiting to come into the Charity and improve their chances of finding a home by removing the stresses associated with living in a kennel environment.

Families thinking of giving up their pet will be visited by a member of staff who will assess their pet's suitability for the scheme before arranging a veterinary check to ensure the animal is in suitable health for rehoming. The Charity then begins looking for a new home for the cat or dog while it stays in its current home.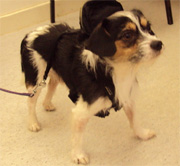 Head of Animal Welfare Shelley Brooker said: "People who rehome an animal through this scheme can be assured their new pet is health checked, microchipped, vaccinated, wormed, flea treated, assessed and matched to their needs. Meanwhile, those who have had to make the difficult decision to give up their pet and have done so through the Paw 2 Door scheme can rest assured, with the help of Wood Green, that their much loved animal will start the next chapter of his life in the best possible way – from home to home."

So far the scheme has resulted in 51 cats finding new homes. Benji, a Jack Russell cross, is the first dog to find a new home through the scheme in Peterborough. His new owner, Janet Creedon, said: "I found the handover good and it went like clockwork, with co-operation from both sides. I liked the personal, professional service and would recommend the Paw 2 Door scheme to others looking to rehome a pet."

The scheme is currently only available for those wanting to rehome cats and dogs and is being trialled within a 25 mile radius of the Charity's Godmanchester Centre.