Animal Charity Restricts Viewing of Dogs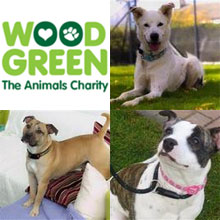 Wood Green animal charity have made the decision to restrict the public from viewing the dogs in their care.
"As a Charity Wood Green focuses on providing the best possible welfare for the animals in our care. We believe by giving the public free access to the kennels we are not providing this and have therefore taken the decision to restrict public viewing of our dogs to those people who are actively looking to rehome" the charity says.
The change was announced on Sunday 12th January 2014. People interested in rehoming a dog can make an appointment to visit the dogs but The Coco Markus Kennel at Wood Green's headquarters in Godmanchester will be closing for the general viewing of dogs from 20th January 2014.
"Various studies worldwide have shown that a constant stream of strangers viewing dogs is extremely stressful for them, leading to excessive barking, hiding and panting. Therefore in the best interests of their welfare, Wood Green have taken the decision, in line with other leading charities, to limit kennel viewing to people who are actively looking for a new canine companion."
If anyone is worried that this may negatively affect rehoming rates, this seems unlikely. Research has shown that on average only 15% of visitors to the kennels were actually interested in rehoming a dog. Wood Green explain "We have spoken to other charities that have made this move and they have found that their rehoming numbers have not dropped and in many cases have increased. They have also found the success of their matching systems have improved, with the numbers of dogs returning to them falling."
You can start by viewing online the Wood Green dogs looking for homes. It is simple and less stressful for the dogs if you start your search that way. Visit Wood Green's Adopt a rescue pet page to see all the dogs looking for their forever homes. If you see a dog that you think you would like to rehome you can book an appointment to view that dog or any of the dogs in their care. Please contact Wood Green on 0844 248 8181 or via email info@woodgreen.org.uk.
Anyone looking to rehome a dog from Wood Green will be asked to firstly talk to a member of staff in order to discuss the rehoming process and possible suitable animals. The rehoming process is more successful when you have guidance as to the right dog for your lifestyle and needs. And don't worry, there is no limit to the number of dogs you can meet until you have found the perfect friend for you.