Teaching Children Dog Danger Signs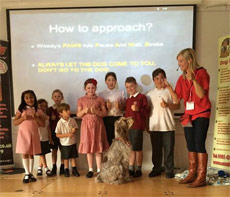 Woody's Way is a fantastic scheme set up to help children to be safer around dogs.
Founder of Woody's Way, Tracy Chapman, and her Italian Spinone Woody visit schools, teaching the children to be safe around dogs and the talks are completely free.
The children are taught the signals that dogs give before they bite plus how to approach and stroke a dog safely and how to tell if a dog is happy to play or not. Tracy also explains to the children how to train a dog so they grow up well balanced.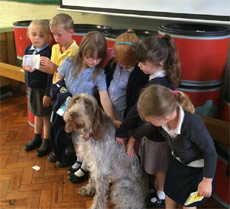 Wouldn't it be great if this was available in all schools. We agree with Tracy - understanding dogs and better education in this area would dramatically reduce dog attacks.
You can visit the Woody's Way website to see some of the things the children are taught. It is a useful resource with illustrated pictures showing dog calming signals and warning signs. You can also view and teach your children Woody's PAWS rule for meeting and greeting dogs.
Visit http://www.woodysway.co.uk