Woof Walkies
Woof Walkies are sponsored charity dog walks for Cancer Research UK.
Spend a few hours with family, friends and your beloved dog in the great outdoors, whilst raising essential funds for research into all 200 types of cancer. You'd be barking mad not to sign up to your local Woof Walkies event!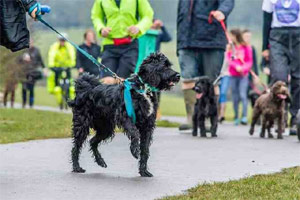 Woof Walkies events honour the life-long support and love our canine companions provide. Get involved in a sponsored dog walk in your local area and raise vital funds for Cancer Research UK.
Visit the Woof Walkies page to find an event near you.
Did you Know?
Cancer is a disease of cells and all cells can become cancerous - whether they belong to humans or dogs. The treatments and drugs that Cancer Research UK scientists have developed for beating cancer in humans are now often used to tackle canine cancers as well.