Yellow Dogs Need Space
Some dogs need space and yellow is the colour used to signify that space is needed. But how did this all begin and why?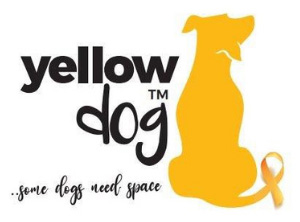 Yellow Dog was originally developed by Eva Oliversson, a certified dog behaviourist and trainer in Sweden in June 2012. She discovered a dog trainer in Australia who had been using yellow ribbons to signify that a dog needed space.
Why a dog might need space
Some dogs are in training, have health issues or are recovering from surgery, some dogs have suffered a bad experience, are nervous, old or find the world a scary and overwhelming place.
Not every dog wants attention.
Being rehabilitated
Bad experiences
In heat
In training
Being socialised
Old or unwell
Nervous or sensitive
It doesn't really matter why. If you see a dog with a yellow ribbon, bandana or any yellow marker, that dog needs space. Please maintain distance and give them time to move out of your way.
Yellow Dog UK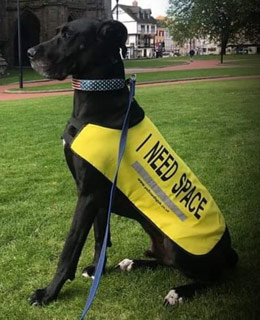 UK ambassador Alison Gibson-Starkhad had firsthand experience with a nervous dog who had been previously attacked in a local park. Alison explains:
"Before the incident he was such a loving pooch, but following the attack became petrified of other dogs and was not comfortable around males at all. It was a long road back, physically and emotionally for him, but we knew we had to rebuild his confidence and learn how to re-socialise him. We needed everything to be on both ours and his terms, and he needed his own space to do that."
Over the last ten years Yellow Dog UK have grown considerably. They exhibit at major events and are supported and sponsored by councils, vets, dog trainers and police forces, including Humberside Police, Centre of Applied Pet Ethology, National Association of Pet Sitters, and Dog Walkers (NARPS), British Dog Fields, Heal The Dog, Dog First Aid Merseyside as well as many others.
Some dogs need space
The goal is to make yellow the nationally recognised colour for space. If you see a dog wearing yellow, please give the dog and their human some space. Making yellow an accepted representation throughout the UK will make dog walking a more enjoyable and safer experience for all, and in turn give dogs in need of space a better quality of life.
Yellow Dog UK want to see information about yellow dogs in local parks, on council websites, in vets and groomers. Simple rules for a simple message - Please don't approach a dog wearing yellow. Allow the dog and owner to pass, please move to one side or cross the road or put your dog on lead.
Spread the yellow dog message
Share this article or link to Yellow Dog UK, to help spread the message.
For more information and to visit the official Yellow Dog merchandise store please visit www.yellowdoguk.co.uk
Yellow Dog UK is a registered charity raising awareness that some dogs and their owners may need space for a variety of reasons when out in public. They pledge to supply free yellow ribbons to owners whose dogs needs space and all donations will be used to promote and raise awareness of the campaign.