Amended Dangerous Dogs Act - What you need to know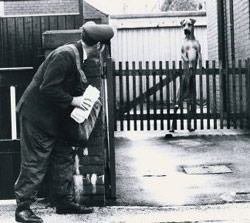 In May last year we reported on proposed government measures intended to tackle irresponsible dog ownership - Please see Queen's Speech 2013 - Extension of Dangerous Dogs Legislation
The intention was to close a loophole in the law that makes it difficult to prosecute dog attacks that take place on private property, following a string of attacks on private land.
The amended Dangerous Dogs Act came into effect today, 13th May 2014. It applies to all dog owners and all dog breeds in England and Wales, so please read on to find out how it affects all of us.
The main changes are:
It is an offence to own or be in charge of a dangerously out of control dog in a public place and now also on private property (including in your home and garden).


If a pet attacks a guide dog or other assistance dog, this is now covered by the amended dangerous dogs legislation.
Dog owners can now be prosecuted if their dog attacks or threatens to attack a person, even if it is on private property.
Animal welfare minister Lord de Mauley says "Irresponsible dog owners will not only face longer prison sentences, but will also be liable for prosecution regardless of where an attack takes place, even in their own home. This will give protection to those who provide vital services in the community - postal workers, nurses, utility workers - as well as people visiting family and friends."
It is important to be aware that being 'dangerously out of control' covers, and has always covered, not just actual biting or harm but also threat of harm.
Last year when the amendments were first proposed, concerns were raised regarding where dog owners stand if their dog attacks a burglar. This has been addressed. Burglars attacked by a dog in the household will not be protected by the amended act. This does not include other persons visiting your home or coming onto your property though.
In light of this, the advice is to make sure your property fences are high enough to contain your dog (and deter anyone likely to try to scale them for whatever reason) and are properly secure. Also make sure that anyone with access to your front door is not confronted by your dog. Think deliveries, the post man, other visitors to your home etc... Barking or lunging at people coming to your property is a behaviour that will need to be addressed. Don't forget, the act deals with threat of harm as well as actual harm.
"You need to make sure that any visitor can safely access your front door without encountering your dog." explains the National Animal Welfare Trust.
To find out more about the changes, visit the National Animal Welfare Trust's website https://www.nawt.org.uk/advice/changes-dangerous-dogs-act-advice-owners. They have also produced this helpful video in which NAWT CEO Clare Williams explain how changes to the Dangerous Dogs Act will affect you.
Dangerous Dogs Act changes 13 May 2014
Wood Green are offering a free talk to help people get to grips with the new law and how it could affect dog owners. The session is being held by Sue Ketland on 10th June 2014 at 7pm. Places are free but limited so booking is essential. Please call 0844 248 8181 x 1281 or email community@woodgreen.org.uk
Their video guide to keeping pets and visitors safe is also useful.
By Jenny Prevel