Ashes in Glass Keepsakes
This is such a beautiful idea. Your loved one's ashes immortalised into a stunning glass bead and mounted on a silver necklace chain, a keyring or suncatcher.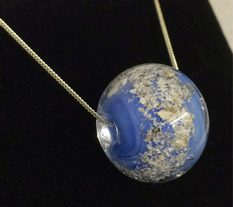 Each glass eternity bead or bar is lovingly forged from stunning coloured glass, encasing the cremation ashes which can be seen preserved inside the glass, surrounded by light and colour.
Turn a difficult time into something beautiful. Memories preserved forever in these high quality glass jewellery and keepsake creations.
Precision, care and respect goes into the making of each 'ashes in glass' memorial. They are a stunning keepsake which can be treasured forever.
You can preserve the ashes of any loved one in these wonderful glass keepsakes. If you don't have your loved one's ashes, you can preserve the sand from their favourite beach. These beads also make gorgeous mementos, encasing for example the sand from a special holiday, a wedding or honeymoon. Beautiful.
Update - as well as sand or ashes, you can now also preserve earth soil from a grave site, park or favourite walking place. Isn't that wonderful.
The necklaces are a glass ashes bead or bar on an 18" inch solid Sterling 925 Silver curb chain necklace for you to keep your memorial close to your heart. The keyrings are perfect for non-jewellery wearers and, like the necklaces, come in a choice of glass bead or bar and a stunning range of colours. The sun-catchers will perfectly present your eternity bead. Placed in a bright window they will catch the sunlight beautifully.
To find out more or place your order, please visit:
Eternity Ashes in Glass Necklace
Eternity Ashes in Glass Keyring
Eternity Ashes in Glass Suncatcher