Dog Toys Galore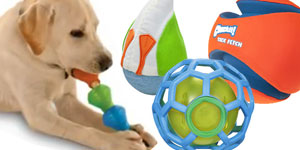 We have gone totally toy-tastic over the last couple of months. First it was that time of year when Santa (yes, that's us dog owners, lol) was looking for a great new toy to thrill and entertain the dogs of the UK. And now for New Year we are all looking for the perfect toys to thrill and exercise the old grey matter of our beloved pooches.
Not to fear because we are on the case, searching out those must have new toys that all good dogs (there are no bad ones) deserve. Whether your dog likes something that can float, fly or keep them entertained (that one gets my vote, lol), read on for some dog toy inspiration.
Soft but tough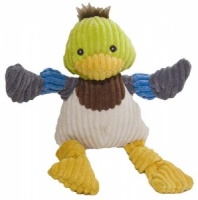 First we bought you the HuggleHounds range of Woodland Knotties soft toys that are surprisingly tough for a plush toy. Perfect for dogs who like soft toys and owners who are fed up of replacing them. You should find these last through quite a lot of play and the squeakers are great for dogs who like to "kill" their prey.
They are corduroy on the outside with three specially bonded layers inside for durability. Add to this the tight stitching, heavy duty thread and reinforced stress points and you have a tough, squeaky, plush toy that will outlast most other soft toys. There are 5 woodland animals to choose from. Pictured is Woodland Knotties Duck. For the full range visit Soft & Plush Dog Toys.
New Chuckit toys
Chuckit toys are hard to beat. That is why, until recently, it was the only brand of dog toy we sold. And the range has just expanded to include some great new toys which we think you will love.
The Chuckit Heliflight is all about lift and height in the air. This toy sure can soar. Perfect for dogs who like to track and stalk the toy as it flies high in the air. It still covers a good distance but it is the lofty heights it reaches that makes it special. Heliflight also floats so is great for water games too!
If your dog is a water loving hound, take a look at the Amphibious dog toy range. The Boomerang, Ring and Bumper are all flying, floating dog toys. A totally unique range of toys made from a combination of memory foam and tooth-rugged nylon giving them superior flight in the air and high flotation in water.
It is not always possible to play outside so for some great indoor games there is the Chuckit Indoor Dog Ball. Perfect for games of indoor ground pursuit with your dog. It has a compelling texture that your dog will love and it is soft so you don't have to worry about chipped paintwork when playing indoors.
If you and your dog love a game of football, check this out. In my opinion Chuckit Kick Fetch is the best dog football that has ever been invented.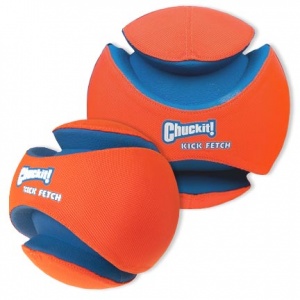 It is large, lightweight, bouncy, and it floats too. Wow. But best of all, it is puncture resistant. Really? Yes, it is not hollow and it is not filled with air so it can't be punctured. And the special grooved shape means that Kick Fetch is easy for your dog to pick up. No longer do you have to watch your dog practically dislocate their jaw as they try to pick up a football. Phew.
Interactive
Last month we added a brand new range of toys to D for Dog by JW Pet. We chose this brand for its quality and for its innovation.
We love their ideas. If your dog is bored of the ubiquitous stuffed Kong or generic treat balls, check out this amazing new range of Interactive Treat Toys for dogs.
The Ever Tuff Chicken Treat Pod and Treat Pods on a Rope are a fun challenge and lots of different types of treats can be stuffed into the pods. Nothing is more rewarding than working for your prize and I am sure your dogs will love these. Easy to set up and hours of puzzling fun. These treat dispensing toys will keep your dog entertained for ages.
Hol-ee Treat Ball is a new take on the standard dog treat ball. The basic idea is the same. The dog rolls the ball and treats come out.
The innovative part is the honeycomb outer cage made from flexible and quiet (yay) natural rubber. The minute my terrier Berkeley started playing with this toy I knew it was a winner. He loves the fact that he can easily pick it up and move it about. The inside workings are also very clever, randomly dispensing the treats inside which keeps your dog interested for longer. The only drawback is that you have to fill it with quite large treats otherwise it is a little bit too easy.
Dog ball with a twist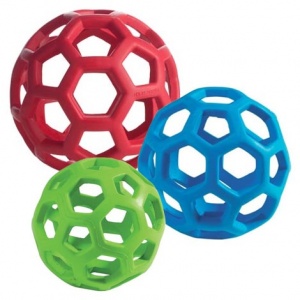 I wasn't sure about this one when I saw it in the catalogue but boy am I glad I gave it a try. What an unusual dog ball. The JW Hol-ee Roller uses the same rubber honeycomb design as their treat ball, making it a very intriguing, flexible ball that is great for outside or indoor fun. No matter what you do to this versatile ball, it will always spring back to shape. It has a much better bounce than I was expecting and it is so light we have played lots of indoor games of fetch. Berkeley seems to find this ball fascinating. He fetches it, shakes it and chases it about. It is quite peculiar and great fun. If you can find some large treats or chicken strips, pop those in for added fun.
So those are some of the new toys we have added recently but of course there are loads more as well. To see our full range visit Dog Toys.
I hope this has helped if you are considering some new toys for your dog. You will be amazed what just 15-20 minutes of play and brain exercise can do for your dog's emotional state of mind. Happy, mentally satisfied dogs are much less likely to start creating their own entertainment. And watching your dog play and learn is so rewarding. So take a look and don't hesitate to ask if you have any questions about anything from the range that we sell.
By Jenny Prevel