5 Winter Warmers for Dogs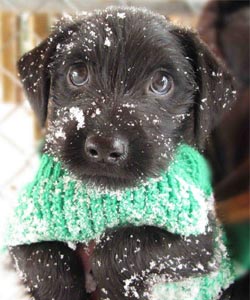 Brrrr, the colder weather is on its way and our dogs can feel the cold too, so let's talk about some great products that can help keep your dog cosy and warm in the winter months.

Not every dog needs help to keep warm but many dogs do - either indoors, outdoors or both. Dogs live in our heated, insulated homes and, just like us, some can find going out in winter weather a bit of a shock, especially thin coated dogs, elderly dogs or breeds that are not very hardy. Other dogs may feel the cold indoors in the dead of night when the heating is off and we are all snuggled under our duvets. Then there are those other times when many dogs can feel cold, for example after a bath when they are wet through.

So with all these eventualities in mind, I have drawn up my list of 5 excellent winter warmers for dogs.

Jumper or Vest
I don't know why the humble dog jumper gets such a hard time. My dogs have jumpers and wear them a lot each winter, indoors and out. Make sure the one you buy is soft, warm and a good fit.

Waterproof Jacket
I am a big fan of waterproof dog coats. Many dogs don't like going out in the rain or getting wet. Thin coated dogs especially can feel the rain on their skin, which is not pleasant. My preference when it comes to dog coats is a quality lightweight waterproof jacket, with or without a fleece lining, depending on whether your dog needs an extra layer of warmth. For those darker mornings and evenings, a coat with reflective trim is a big bonus. Be safe, be seen!

Blanket
A good dog blanket is another cold weather essential. You know that cosy feeling when you snuggle down with your winter blanket… well dogs love that feeling too. I can always tell when my dogs are cold in their beds because they curl up and put their noses into their own armpits. Time to get the blankets out of the cupboard. Pop a nice fleecy blanket around them for a happy, snug dog.

Drying Coat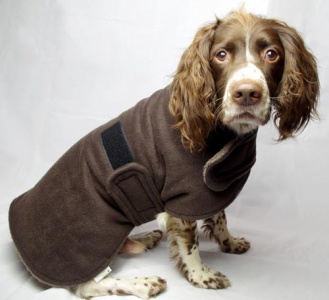 The first time I saw these towelling dog drying coats I have to admit I was sceptical. I wondered if it was all a bit of a gimmick. But now I am converted, so much so that these handy items have made it onto my list of essential dog winter warmers and are also one of our best sellers.

A microfibre towelling lined drying coat is perfect not only for drying your dog but also keeping them warm as they dry. They are very versatile. You can use them after a bath, travelling home in the car after a wet or cold walk, or any time you want your dog to feel warmer and drier. Fantastic.

Bed Time
Not much feels worse than being cold at night time. That's why the final item on my winter essentials list is a quality, well constructed dog bed.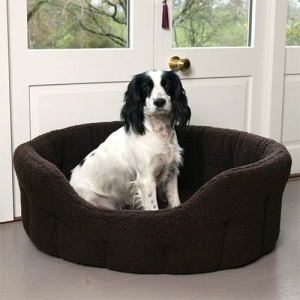 So many are woefully inadequate with thin bases, inferior fillings and floppy sides. Your dog wants to be properly insulated from the cold floor and protected from chilly draughts.

All dogs are different so I won't be recommending one type of bed. But some pointers are to buy a high sided bed for dogs who like to curl up or dogs who sleep in a draughty area. To check for draughts, actually get down on the floor and see how it feels. Dogs who like to stretch out or who sleep in a non-draughty room may prefer a mattress bed. If the material is cool and smooth, make the inside of their bed cosier with a fluffy blanket or treat them to bed lined with a cosy fleece. View our large range of all kinds of dog beds.

That's your pet sorted for winter.

By Jenny Prevel

© D for Dog www.dfordog.co.uk
This article belongs strictly to D for Dog and we do not authorise the copying of all or any part of it.