Perfect Personalised Pressies for Pooch Lovers
In a world where our four-legged friends hold a special place in our hearts, you might find yourself looking for the perfect gift for the dog lover in your life. Generic presents just won't cut it when it comes to celebrating the bond between humans and their canine companions. That's where personalised gifts come into play, offering a tail-wagging twist to the art of gift-giving.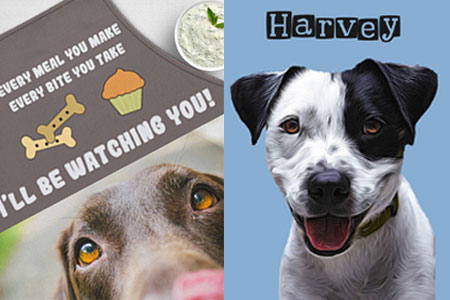 At D for Dog we can help you to explore the pawsitively perfect world of personalised presents for dog owners that are sure to unleash joy.
Pet portraits
What better way to capture the essence of a beloved furry friend than with a stylised pet portrait. Our talented in-house digital artist can transform a favorite photo of doggie into a modern work of digital art that immortalises their unique personality. Whether it's a playful pose or a regal stance, a custom portrait framed print adds a touch of artistry to any dog lover's home.
Customised dog tags
Give Fido a stylish upgrade with a personalised dog tag that goes beyond the standard identification. Our unique resin tags feature your own drawing to make an extra special gift. This one-of-a-kind dog accessory is sure to astound and delight. Not only is it a practical gift, but it also adds a touch of flair to the dog's collar.
Personalised dog accessories
Take bath or bed time to a whole new level with a soft fleecy dog blanket or towel featuring the pooch's name. Or how about a personalised dog toy box, which is sure to delight. Any dog or dog lover will be thrilled with such great gift ideas. These thoughtful pressies are useful and also totally unique and very special.
Dog-inspired jewellery
For the dog lover who wants to wear their affection close to the heart, consider personalised jewellery adorned with pooch's paw prints, portrait or photo for an incredibly meaningful and touching gift.
Personalised home décor
Help your favorite dog lover transform their living space into a haven for both humans and dogs with personalised home décor. Handpainted treat jars, customised cushions, photo blankets, and even kitchen aprons and chopping boards featuring the dog's image add a touch of warmth and personality to any home. Or choose a Personalised Photo Tea Light for the candle lover in your life. So beautiful.
Dog-themed apparel
Here at D for Dog we have a wide range of fun slogan dog lover clothing. Let the world know about their love for dogs with personalised apparel. Hoodies, t-shirts and vest tops featuring adorable dog designs or customised messages celebrate the bond between dog and owner in a brilliant and practical way. View all our Dog Lover Clothing.
Feeling inspired?
In the world of gift-giving, personalised treasures for dog lovers stand out as unique and heartwarming tokens of affection. These types of gifts not only celebrate the love between humans and their canine companions but also create lasting memories that will be cherished for years to come.
So the next time you're on the hunt for a gift that will truly bring smiles, consider the world of Personalised Dog Lover Gifts.