Make Sure Your Dog is Safe & Seen
I love autumn and the dog walks at this time of year. Dogs adore smelling all the interesting scents and frolicking in the exciting windy weather. Great fun. But of course, with this time of year comes darker walks and it is important to make sure your dog is seen and safe.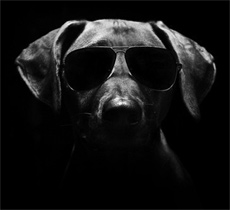 Here are some of our top picks to improve your dog's visibility on those darker mornings and evenings.
Reflective
Dog accessories (collars, leads, harnesses) that incorporate reflective elements in their design are an invaluable piece of dog walking kit.
As long as you are near some kind of light, even if it is passing traffic or lamp posts, these can give your dog the visibility needed on those darker morning or evening walks. Reflective strips and trim will even start to shine from natural light as the sun starts to go down.
Many dog collars, leads and harnesses include reflective strips these days.
All EzyDog dog harnesses (Chest Plate, Quick Fit and Convert) have reflective properties built into the design, which show up as soon as the sun starts to dip.
Don't underestimate the usefulness of reflective strips on dog accessories. As long as there is some natural or artificial light about, they will work well and certainly enough for you to see your dog and for others to see them too, especially oncoming traffic.
I've tried to show how these products work in the photo to the right (our lovely Darcey sleeping through her modelling job, lol) but to be honest it is not something that comes out that well in a photo. I hope you can see the reflective stitching of the Comfort collar.
Another favourite are the Ziggy Reflective Dog Collars and leads by Red Dingo. There are loads of great colours to choose from and they look fabulous, both day and night, with oodles of reflective pattern in the design for when the sun goes down.
Before finishing our look at reflective dog accessories, did you know you can also get dog jackets with reflective piping or trims. Many of these dog coats have reflective elements incorporated into their design, to varying degrees. Check them out.
High Vis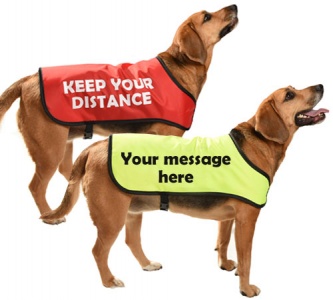 A high visibility vest or jacket is also a great way to make your dog more visible.
Our full length Dog Message Jacket is a lightweight, comfortable and waterproof jacket with high-vis yellow or orange options. And, as the name suggests, you can even have text added. If you only want a smaller bib design, check out the Message Vest which again has high-vis yellow or orange options.
LED Lights
If you are in a rural area with little passing traffic or artificial light around, you may need something more. Actually, even some city parks can be pretty pitch black in the winter. There may be times you need a more powerful solution.
The development of battery powered LED dog accessories has improved greatly in the last few years. There are now quite a few to choose from. Unlike reflective items, with LEDs you don't have to rely on external light in the form of passing vehicles or street lamps to get the safety glow you need.
There you go folks - everything your dog needs to be seen and safe this winter. Don't let those dark mornings and evenings put you off those lovely dog walks.
Enjoy
By Jenny Prevel
© D for Dog www.dfordog.co.uk
This article belongs strictly to D for Dog and we do not authorise the copying of all or any part of it.
Useful product links