Dog Microchipping Deadline
Don't forget that all dogs in England must to be microchipped by 6th April this year. That's less than 3 months away.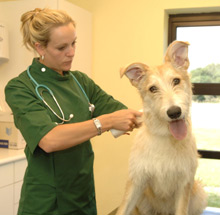 From 6th April 2016 all dog owners in England will need to have their dog microchipped and registered on one of the authorised commercial databases. For more detailed information on the law change and its effects, please see the original article here.
How do I get my dog chipped?
Your local vet will offer a microchipping service, usually for £10-£20. It is a quick and simple procedure that can be done at a regular vet appointment.
Alternatively, Dogs Trust have committed a considerable amount of money to ensure no dog owners will lack the financial ability to microchip their dog.
Free microchipping
Free microchipping is available throughout the year by appointment at all Dogs Trust rehoming centres, at free microchipping roadshows and also at participating veterinary practices across the country.
How is it done?
Microchipping is quick and easy. The microchip is injected through a sterile needle under the dog's skin between the shoulder blades and is no more painful than a standard injection. The video below shows the procedure.
Do I still need a collar and tag on my dog?
Yes. This law has not changed. Your dog must have identification clearly visible when in public. This must take the form of the owner's name and address. For more information please scroll down this page to our Dog Identification and the UK Law section.
Register the chip
This is extremely important! If the vet or whoever is chipping your dog does not submit the paperwork for you, make sure you complete the form and mail it to the company. And even if the person who chipped your dog submits the paperwork, it's a good idea to follow up with the database company yourself to make sure the chip was registered correctly.
Update details
It is vital that the owner takes responsibility for updating their details with the database should their details (phone number, address etc.) change. You must keep your dog's microchip information up-to-date. If you don't, the microchip is useless.
There are four microchip databases in the UK, so if your dog has been chipped in the UK, the chip should be registered with one of them, if the corresponding paperwork has been completed.
If you need help finding out who your dog's chip is registered with or how to contact them, visit How To Check Your Dog's Microchip Details.