Dog Chipping - One Year On
A year ago, in April 2016, dog microchipping became compulsory in England for all dogs over the age of 8 weeks. There are very few exceptions. The only dogs who don't need to be chipped are those with a vet issued Defra exemption form. However, a year on from the law change, over half a million dog owners are breaking the law by not getting their dogs chipped.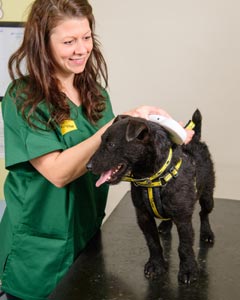 On the 1st anniversary of the compulsory microchipping law, dog owners are being urged to microchip their dogs, if they haven't already, and are also being urged to check that the chip details are up to date.
Dogs Trust statistics show that a fifth of dogs were reunited with their owners as a direct result of being microchipped, proving just how important chipping is in ensuring lost dogs are swiftly reunited with their owners.
However, owners who don't update the chip details risk the very real possibility of being permanently separated from their beloved family pet. A shocking number of dogs remain unclaimed simply because their chip details were not up to date on the microchip database and they could not therefore be be reunited with their owners.
In case you missed any of the previous info re chipping, visit Dog Microchipping Deadline.
Whilst more needs to be done to target the minority of dog owners falling foul of the law, the legislation has overall been a positive influence over the past 12 months, say Dogs Trust.
Animal Welfare Minister Lord Gardiner said: "Thanks to microchipping, thousands of dogs have been reunited with their owners and the number of stray dogs is now at a record low. It is excellent to see that so many owners have taken action to get their dogs chipped — a painless process for dogs which many charities will carry out for free. However, still too many are not being reunited where owners have not updated their details when they move home or get a new phone number — heart-breaking for the owner and easily avoidable with a five-minute phone call."
Check that chip
If your dog is chipped but you are unsure if the details are up to date and you need help finding out who your dog's chip is registered with or how to contact them, visit How To Check Your Dog's Microchip Details.
And please don't forget that chipping does not replace the need for ID tags. All dogs must wear an identity tag when in a public place. By law it must state the owners name and address. For more information please scroll down this page to our Dog Identification and the UK Law section.
Puppy breeders and buyers
It is not just owners that need to be mindful of the law. Breeders and potential buyers of puppies must ensure they comply with the legislation. Dogs Trust have noticed a growing number of breeders either not microchipping their puppies or not registering their details on the microchip database, which is compulsory by law.

If you are buying a puppy, the breeder must microchip the pup at the age of 8 weeks and register their own details to the chip before the sale of the puppy. The new owner must then update the breeders details to their own once they take ownership.
By Jenny Prevel
© D for Dog www.dfordog.co.uk
This article belongs strictly to D for Dog and we do not authorise the copying of all or any part of it.