Don't Regret Buying Your Pet
If you are looking for a pet, scouring the online adverts and classifieds... take care. Sadly there are many unscrupulous sellers and breeders out there. The internet is the perfect vehicle for them to trade in pets with very little surveillance. That means danger for the pets being sold and for you, the buyer.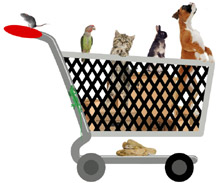 I was recently shown the Pet Advertising Advisory Group (PAAG) website and had to share it. They promote responsible pet advertising and, as part of that remit, they have provided a wealth of information about safely buying a pet.
Try an animal charity first
Go and see the pet at their home
Always see young animals with their Mum - no excuses
Never buy endangered, banned or illegal animals
If you have any concerns, walk away and report it
If you go to see an animal that is not with their Mum, looks unhealthy or is living in poor conditions etc... report it and do not buy that animal. Making a purchase will not be saving that pet, it will be paving the way for more animals to suffer. Hit sellers and bad breeders where it hurts - their wallets.
There are sadly no shortage of cases where people have unwittingly purchased poorly or problem pets online. PAAG is made up of the UK's leading animal welfare groups and specialist agencies who have to deal with the fall out of inappropriate advertising every day.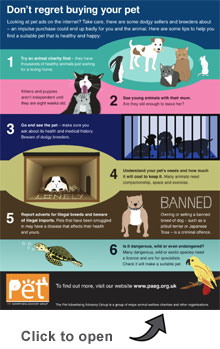 You can download their handy infographic Don't regret buying your pet which explains what to look out for when buying a pet online.
PAAG are trying to tackle the increasing problem of inappropriate adverts appearing on classified websites, and have drawn up a set of Minimum Standards they would like websites offering pets for sale to adhere to. The aim is for as many sites as possible to sign up to these standards and advertise pets in a responsible way. They have been developed to improve pet welfare and to protect people from the risk of ending up with sick, dangerous or even illegal animals.
"We feel this continuing work with websites is vital, especially given the lack of regulation with regards to the online sales of pets."
"Online pet advertising is a dangerously unregulated market and we hope the standards will help to filter out unscrupulous advertisements."
The standards have been endorsed by Defra, who gathered the leading online pet classified websites together to discuss the need for urgent improvement.
PAAG urge buyers to be cautious when buying an animal online and to look at the guidance they have included on their website.
Websites that comply with the standards will be listed on the PAAG website as the ethical and safer choice when deciding to find a pet online.
Why not ban the online sales of pets?
PAAG explain: "A ban on the advertising of pets online is an unrealistic solution to the problem. We have to accept that many people now choose to look for their pet online. In much the same way as the internet is the first choice for finding a job, a home and a partner. It would be short sighted to suggest that a complete ban on the sale of pets over the internet would deal with the problem of people ending up with the wrong pet. In fact it is more likely to push the problems underground and onto sites which are owned and based outside the UK and would not be willing to comply with any standards."
What can I do?
Stay vigilant to ensure that websites meet the standards. Do not use sites that don't apply them.
If you have bought an animal from a classified ad or website that has turned out to be a poorly or problem pet, PAAG want to hear from you.
What to do if you've bought an ill pet
Many animal lovers have faced the trauma of having to take a sick animal to the vet just hours or days after buying from a classified advert or pet shop. If you have bought a poorly pet from a person or shop you are covered by the Sale of Goods Act 1979. Live animals are classified as "goods", so this Act is the best one which covers your rights as a consumer.
Contact your local Trading Standards department and PAAG would also like to hear from anyone who has had a bad experience buying a pet from a classified advert.
Buying a dog
Please always remember that a dog is a commitment for the next 10-15 years. Consider whether you can afford the lifetime costs of owning a dog and whether you can meet all their needs for their entire life.
If you decide to buy a dog or puppy, PAAG recommends the following http://paag.org.uk/buying-a-pet/dogs/
Related articles
Buying or Selling a Dog Online
What to Look for When Getting a Dog
Where's Mum? Campaign
This article was compiled by Jenny Prevel using information from the PAAG website