Having Your Dog Put To Sleep - What Actually Happens?
One of the most difficult things we do as dog owners is to have our beloved dogs put to sleep, because they are suffering in some way, maybe through disability, ill health or old age. As harrowing as it is, I am always so very glad that we have the option of euthanasia, rather than letting them suffer.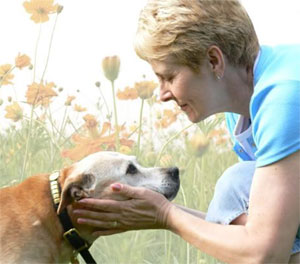 However, with the option of euthanasia comes responsibility. Are we doing the right thing? Is it too soon? Are they suffering or would they prefer to live? So many thoughts go through our minds. The option of euthanasia is a burden of responsibility as well as a blessing.
Quality of life is really what matters. This well written blog by Dr Rosie Smith gives a check list of the main aspects of quality of life, if you need any guidance. But do trust yourself to know when the time is right. You will know.
How will I know when it's time to say goodbye?
Once you have decided that it is time, the process of euthanasia itself can be a bit of a mystery and fear of the unknown won't help at an already harrowing time. It is not the kind of thing we feel we can discuss with others who have gone through it. Even the most peaceful euthanasia can be painful to recall. There is an injection and there is death - that is about as much as any of us know until we have experienced it.
Although this is an incredibly difficult thing for any of us to discuss, I can't help feeling that many people would benefit from knowing beforehand exactly what to expect. The first euthanasia I experienced was definitely the worst and I think that is partly because I wasn't sure what was going to happen. Knowledge helps us to cope. The unknown can be very scary, at a time when we are already feeling so many powerful emotions.
So here we will talk about exactly what happens when your dog is 'put to sleep' and how much time the process takes, so at no stage do you have the added anxiety of not being sure what will happen next and how much time is left.
But first, there are some things you may want to do in advance. Mementos and keepsakes are very comforting to have and cherish after your dog has passed away. Think about whether you would like a print of their paw, a snip of their fur, a special photo to make into a keepsake etc. There are so many beautiful memorial pieces you can buy to remember your beloved pet, from crystal photo cubes to jewellery featuring their paw print or containing fur or ashes.
OK, we can't dodge this topic any longer. I know, it is so painful, but this kind of knowledge can really help.
Firstly, let's talk about going to the vet or staying at home for the euthanasia.
Home or away?
People will differ on their preferences and there is no right or wrong answer. Every dog is different and every person is different. Not all vets offer house calls so you may not even have the option of a home euthanasia. Don't worry too much about this. Just do what you can do.
When our first dog, Boycie, was put to sleep, we had the vet come to our house. I imagined Boyce would feel more relaxed at home but in reality I think he felt worried by the strange man who suddenly appeared in the living room and rather rudely started to examine him while he was trying to sleep on my lap. For a long time afterwards I also felt incredibly sad looking at that place on the sofa, which had previously been a happy place of evening cuddles. Little things, but for us anyway, it was enough to make us decide that next time we would go to the vets – which we did.
Staying at home does dispense of that dreaded final outing and the panic of the vet visit, if you or your pet feel anxious there. It can also reduce the strain on a very sick animal, as you don't have to transport them to the vets and put them through that stress.
But going to the vets can also have its advantages. It is a place where dogs are used to seeing a vet and being examined, so the process will be more expected for your dog. Some people may worry about doing such a sad thing in public but believe me, the receptionist or people in the waiting room will be the last thing on your mind. If you have a good vet, they will be just the right amount of sympathetic and practical and will give you plenty of time with your pet. Also, if you are letting them deal with your pet's body afterwards, already being at the vets is not such a bad thing.
As I say, there is no right or wrong place and we will all have different reasons for either wanting our dog put to sleep at home or at the vets.
As most people will have euthanasia performed at the vets, I will talk in those terms but the actual process is the same either way.
The appointment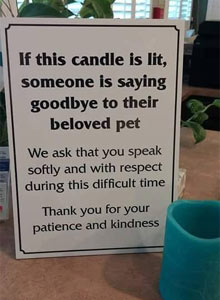 When you make the appointment, tell the receptionist that it is an appointment to have your pet put to sleep. They will give you a longer appointment time, will not ask inappropriate questions in the waiting room like "how is he today" and they will do their best to make sure the atmosphere is as respectful as possible.
I also ask if sedation is used - sometimes referred to as "two injection" euthanasia. It's important and I will discuss this further in a moment.
If you are taking your dog home after the euthanasia, remember to take a blanket with you so you can carry them home with dignity.
At the beginning of the appointment, don't be surprised if your vet still does all the usual things first like checking your dog over, listening to their heart and so on. If something has suddenly happened to your pet, the vet will need to make their own assessment before they agree or otherwise to the euthanasia request. Even if your pet is old or has an ongoing issue, the vet will still probably check your pet over one last time.
Once everyone agrees that euthanasia is the best course of action, your vet will start the process.
If you need to sit down, don't be afraid to ask for a chair. But if you can, stay with your pet, at least for now, so they are comforted by your presence. People often worry that when the time comes they will go to pieces. What is more likely to happen is that you will find an inner strength. You will be strong and be there with them for this final journey. This is about making your pet's last moments as calm and peaceful as possible, and you will be surprised that this is something you can do, for them. Talk calmly and gently to your pet, so they know all is well. If you can't trust your voice, just be near and calm. You are doing the right thing. All is well.
Sedation
Your vet will hopefully prepare an anaesthetic or sedative injection for your dog. This is generally subcutaneous, meaning that it just has to go below the skin or maybe into the muscle and doesn't have to go directly into a vein. It can simply go into the rump or leg, so it not so stressful or painful. This is a much more pleasant way to slip into peace. Your dog will hardly know what happened and will simply start to feel pleasantly drowsy.
You will notice that I said "Your vet will hopefully prepare an anaesthetic or sedative injection for your dog". Some do not. Having seen it done both ways, the "two injection" method is definitely my preference. Boycie was not sedated first and he panicked as the vet pulled him about, trying to get the injection into his vein. Once the injection did go in, he was dead within seconds. It was unnecessarily harrowing, undignified and way too sudden – not the peaceful and a gentle goodbye we had hoped for. The only time a sedative may not be necessary is if the pet is already slipping into unconsciousness naturally.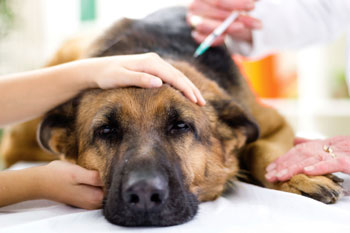 After the sedation has been given, gently hold your dog as they begin to drift off. Their legs may start to buckle and their head may hang down as they get very sleepy, so make sure you support them without restraining them. They may react a little bit to the feelings of loss of control and may even try to get off the table or struggle a bit. Just help them to feel as calm and comfortable as possible.
After a few minutes they will become incredibly drowsy and you may like to hold them in your arms. Your vet may leave the room while you have some final alone time. Generally you have about 10-15 minutes with your dog as they go into a deep sleep. It is a precious moment.
So far your dog has only been sedated. They are still alive but fast asleep and may even snore peacefully. They may still have a level of awareness, so continue to be calm and gentle. Hysterics won't help your pet. Be brave. I always feel comforted by their gentle breathing and peaceful body. I have a last kiss and cuddle, thank them for their wonderful companionship and say goodbye.
You have done the most important part for your pet now. If you feel you don't wish to be present for the actual euthanasia then tell your vet how you are feeling.
The final injection
Once your dog is fast asleep your vet will check their responses and then prepare the final injection. This one is injected into a vein so there may be a bit of searching for the vein, especially in a very ill dog. Don't worry about your pet feeling any pain now as they are very deeply asleep.
My understanding is that this final drug is commonly a high dose (overdose) of an anaesthetic drug. Once administered, your dog will become unconscious incredibly quickly. The brain will stop functioning after just a few seconds and, because the brain works the heart and lungs, within about 20-40 seconds your dog will stop breathing and their heart will stop beating. Sometimes people worry that euthanasia works by causing their pet to have a heart attack, but this is not the case, so do not worry.
The vet will listen to their heart and check for reflexes. After a minute or two they will confirm that your pet has now passed away. Your pet's eyes will probably be open and they may soil (this may also happen at the sedation stage), as the body is now completely relaxed. This is all normal. Don't be alarmed.
Sometimes the passing is as quiet as a final breath, or sometimes a pet may gasp, twitch, vocalise or even move. Don't worry, this can happen and is not unusual or anything to worry about. They are not suffering. Having witnessed this myself and being a little alarmed, I was told that it is just reflexes and electrical impulses in the body. This can be a natural part of any death.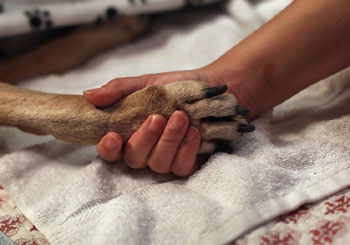 I read a wonderful article by Adrienne Farricelli, a former veterinary hospital assistant.
Understanding Dog Pain During Euthanasia
This quote says it better than I ever could:
"Acknowledging what happens and acknowledging things that may go wrong is helpful. That way if things go well, you'll likely think "Is that it? That was very quick and peaceful!" and if things don't go very well, at least you know what may likely have happened so those last moments won't haunt you day after day as you wonder if your pet suffered. Truth is, the death of our pets is never pleasant to witness, but it's far better than suffering day after day, and most of all, our dogs will be eternally thankful for this last gift of unconditional love."
After the vet has confirmed that your pet has passed away, they can help you wrap them in the blanket, if you wish to take them home. You may be doing a home burial or taking them home for any other pets to say goodbye to. I do feel this is important. Other dogs in the household will want to know where their companion has gone, so do this if you can.
Cremation & burial
If you are doing a home burial, you might like to read Burying Your Dog at Home.
If your dog is being cremated, you can scatter their ashes in a place they loved or place their ashes in a beautiful pet urn. Or why not do a bit of both. You can scatter most of their ashes and keep a small token amount in a little keepsake urn. Beautiful.
Did I do the right thing?
Euthanasia saves our beloved pets from weeks and months of unnecessary suffering. You thought it all through and did your very best for you pet and yet you may still feel guilt or worry about having had your pet put to sleep. Was it too late? Was it too soon? The chances are, it was just right. You loved your pet and you did the best you could for them. Be kind to yourself, trust your decision, know you did it with love and let any guilt go. Your beloved dog would say "thank you for caring" and that is all that matters.
Thank you so for loving me. You know I love you too,
and that's why it's hard to say goodbye and end this life with you.
So hold me now just one more time and let me hear you say,
because you care so much for me, you'll let me go today.
From "May I Go" by Susan A. Jackson
I hope this has helped anyone who needed comfort and knowledge at this sad and stressful time.
To all the doggies who have passed or are about to go on this last journey - Run Free!
Pet loss and grief
If you are dealing with the emotions of pet loss, you may like to read our Coping With Pet Loss & Grief article.
By Jenny Prevel
Disclaimer: Please note that these are my own personal experiences of euthanasia of my own dogs. I am not a vet and there may be other procedures or methods that I have not experienced or mentioned.
© D for Dog www.dfordog.co.uk
This article belongs strictly to D for Dog and we do not authorise the copying of all or any part of it.