Burying Your Dog at Home
The death of a beloved pet is an upsetting and emotional time. But because it is something we all know, as dog owners, that we will have to face at some stage, I wanted to do a series of bereavement articles discussing topics like when to say goodbye, euthanasia and pet burial. In this article we will discuss pet burial at home.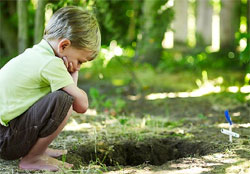 If you would like to bury your dog at home, you may be wondering if home pet burial is legal, how to be sure of death, how to prepare your dog's body, what specifications the grave should meet such as grave depth, what to bury your dog in (do you need a coffin?) and whether to show the body to your other pets? With so many important questions arising at this time, we hope this article helps answer some of those concerns.
Home pet burial vs cremation
Pet home burials are still popular despite an increase in pet cremations. Home burials are private, personal and less expensive than other alternatives.
Although the popularity of pet cremations has increased in recent years, it isn't for everyone. Some recent stories in the media of people abusing the trust put in them must have put many people off pet cremation. Apart from the horror stories, pet cremation has other pitfalls that you need to be aware of such as individual versus communal cremation. Communal cremation is common. Always assume the cremation of your pet will be communal unless told otherwise.
Do you really get your own pet's ashes back? Was your pet even cremated or simply dumped somewhere while the fee was pocketed? The intricacies and pitfalls of pet cremation are many. It is not like human cremation. It doesn't seem to be regulated… but that is a whole other article.
Preparing for the burial
In this article and video we will discuss everything you need to know about preparing your dog's body after death, the legalities of pet home burial, digging your dog's grave and burying your pet at home.
But first, there are some things you may want to do in advance of the burial. Mementos and keepsakes are very comforting to have and cherish after your dog has passed away.
Think about whether you would like a print of their paw, a snip of their fur etc. There are so many beautiful memorial pieces you can buy to remember your beloved pet, from crystal photo cubes to jewellery featuring their paw print or containing fur or ashes.
Burying your dog at home
Can you bury your pet at home? Is it legal to bury your dog in your garden? How can you be certain your pet has passed away? How should you prepare their body? What can you bury your pet in? Where should the grave site be? How deep should your pet's grave be?
Let's talk about performing a home burial for your dog. If you want to bury your dog at home, here are some things to be aware of.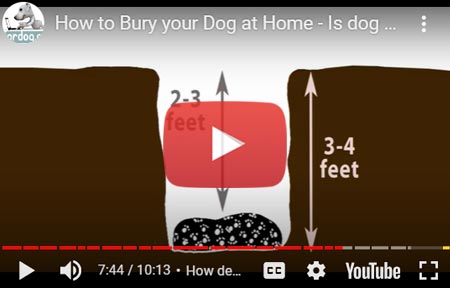 The information given is applicable to UK pet home burials. Please check the legalities for your country if you are not based in the UK.
Can I bury my dog at home?
There are few laws or rules regarding UK home pet burial. As long as you own the property (not renting), it has a domestic use and your dog lived there (although quite frankly who is going to check that part), you can bury your pet at home. Please note that this information is correct for the UK. If you live elsewhere you may need to check the legalities for where you live.
The only exception to UK home burial would be if your pet's remains are considered to be hazardous waste. This seems open to interpretation. If your vet did use this as a reason for your pet not to be allowed home for a burial, ask them for a written explanation.
Also, if you own the property but are worried about what will happen if you move, a home burial may not be your best option.
What do I do if my dog dies at home?
Holding a wake came from the very sensible need to know if a person was really deceased before burying them. The person would be laid out and literally left for a while to see if they would wake up. It sounds strange to us now, but if you are at home with a dying pet it is not necessarily immediately evident when they have passed away. A vet will listen to their heart with a stethoscope and will discreetly check for your pet's vital signs. But as owners, how can we be sure?
Checking for death
I know it is another dreadful thing to have to think about but you do need to be sure of your pet's passing before you bury or refrigerate the body. Even vets have been known to get it wrong. It is rare and not something to have nightmares about but here are some signs of death to check for:
Check for a pulse or heart beat - place two fingers (not your thumb) lightly on the dog's chest between/behind the front legs or inside the back legs where the back leg joins the body.
Watch and listen for signs of breathing.
Check the colour of the gums, which are usually pink when the dog is alive.
Finally the start of rigor mortis, where the body becomes stiff, is a sure sign of death.
Don't feel afraid of making sure of death. It is important. You may even want to call your vet and explain that you would like help determining the death of your pet. Don't be afraid to do the checks above or to ask for help if you need it.
Preparing your dog's body after death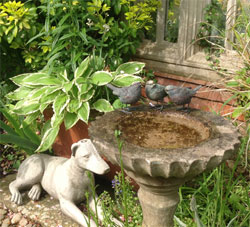 When your dog has passed away, get a plastic sheet or something else waterproof like a bin bag. This is because bodily fluids can come out of your pet's body after death and possibly again when moved or handled. On top of that you can put a blanket or towel. Here you can lay your dog's body on their side, slightly curled up in a sleeping position. This looks more pleasant, makes for easier handling later and positioning in the grave.
Your dog's eyes will probably be open. This is completely natural because all their muscles have relaxed. Please don't worry and there is no need to try to close their eyes.
Should I let my dog see my dead dog?
During this time, if you have any other pets, you may choose to show them the body of their doggie pal. I always feel this can help other dogs or pets in the household to understand that one of their pack has died, rather than wondering where they have gone. Let them see and smell the body and give them as much time as they need, which doesn't tend to be more than a few sniffs.
How long can you wait to bury a dog?
It is a good idea to wait 2-3 hours after death before burying your pet, to be sure of their demise. Once rigor mortis has set in you can go ahead with the burial.
Sometimes the burial can't take place right away. Maybe you are waiting for a family member to come home or for a coffin to arrive. If this is the case, it might be an idea to ask your vet if you can use space in their mortuary refrigerator. If this is not possible or if the wait is only for a little while, a cool dark basement or similar place will suffice. You can keep your pet in this way over night, depending on temperature, humidity etc.
How to dig a pet's grave
Select the position of the grave carefully. It is nice to pick an area of your garden that is pretty or that your dog enjoyed in their lifetime but certain things need to be considered.
Choose a place that is unlikely to need to be excavated in the future (so flower beds are often best avoided unless you plan to put a tree or memorial stone on top) and don't put a grave in a place that gets boggy or is at risk of flooding. Also, keep the grave site far away from water sources such as wells, ponds, streams etc… Also take care not to disrupt any underground pipes or cables.
To prepare your dog's grave, measure around your dog to get an idea of the size of grave you need to dig, width and length wise. Depth wise, the grave should be at least 3-4 feet deep. This is for health reasons and also to safeguard against scavengers, other pets from digging up the burial area, or even rain from washing away topsoil and uncovering the grave. Don't forget a 3 foot deep grave allows for about 2 foot of soil to go back on top.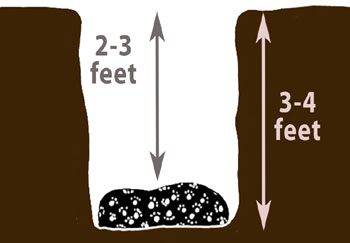 Proper way to bury a dog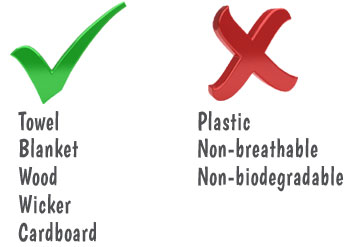 Your dog should be buried in something that is breathable and biodegradable like a towel, blanket, wooden, wicker or cardboard coffin.
Avoid making a casket out of anything plastic or that is sealed in an air-tight way. Do not bury your dog in a plastic bag or anything else that is non-breathable and non-biodegradable.
Once the grave is filled you will have a mound of earth that can be piled on top. It will eventually settle in time.
Let the whole family be part of the burial. Writing poems, saying a few words, letting children add letters, drawings and dog toys to the grave can all help.
Finally, to mark your pet's final resting place you can plant a lovely bush or shrub and/or add a keepsake or pet memorial stone or grave marker. Make it as touching or as simple as you want. There are no rules.
Plan ahead
Try to think in advance about what you want to happen to your pet's body after their death. Facing their death is upsetting enough without having to suddenly decide what you want to do with their body. I have known people who hadn't thought about it in advance and made a quick decision at the time of death that they later regretted.
If you know you would like a home burial for your pet, plan ahead. This is especially important if you want to purchase a coffin. The last thing you want to have to do when you are grieving, in shock and up against time is start a search for the perfect coffin for your dog.
I think home burial is a very personal way to deal with a pet's passing. It is not expensive and you know exactly what has happened to your pet's body during the entire process, rather than entrusting the handling to someone else.
Finally, many people feel that, once their pet has passed, the body is now simply an unused vehicle from their life on earth. Don't feel you have to go to any great lengths to care for remains if you don't want to. We all have different feelings about this. As long as everyone who loved the pet is in agreement with what should happen to the body, that is all that matters.
"The one best place to bury a good dog is in the heart of his master."
Ben Hur Lampman - 1925
Articles of interest
If you are dealing with the emotions of pet loss, you may like to read our Coping With Pet Loss & Grief article.
You may also like to read our article Having Your Dog Put To Sleep - What Actually Happens?
By Jenny Prevel
© D for Dog www.dfordog.co.uk
This article belongs strictly to D for Dog and we do not authorise the copying of all or any part of it.