Tinted Windows and Car Insurance
Could adding sun shades, privacy screens or tinted windows to your car to protect your dogs from the sun invalidate your car insurance?
We received an interesting email the other week from a lady called Sally in beautiful Wales. Sally had been a customer of Ageas UK, having her car insurance with them.
Sally explained to us that she had recently had to change her car because her elderly Labrador was finding it difficult to jump into the other vehicle. Unlike her previous car, the new car did not have tinted windows. To protect her dogs from the sun, she had a privacy screen added to the back windows.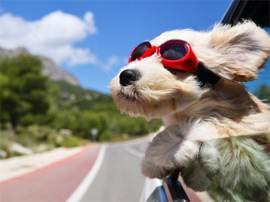 Sally was aware that, as part of her insurance terms, she needed to advise her insurers of any alterations to the car, no matter how cosmetic. However, she told us that after informing Ageas of this privacy screen addition, they cancelled her car insurance with them.
As a dog information website, we did of course feel a duty to investigate this issue and possibly warn other dog owners.
D for Dog contacted Ageas about Sally's situation. We asked them if they would like to comment.
In particular we asked them:
Is it your general policy that putting film on the back windows of a car to keep the sun off will result in the insurance becoming invalid?
If Sally had not informed you of the addition of the privacy screen, and if she had been in an accident, would you have refused to pay out?
Although the windows look dark from the outside, you can see out. Sally describes it as "like looking through sunglasses". With this in mind, we are at a loss as to why this would invalidate anyone's car insurance policy. Could you please explain the reasoning behind this.
Ageas insurance replied very quickly and politely to our enquiry, to say they would look into this matter. Within a week or so we heard from them, which again was very prompt and professionally dealt with.
Here is their statement:
Ageas, with its insurance partners, aims to offer customers the right insurance policy to suit their requirements and to provide them with a fair and efficient service.
We are grateful to [Sally] for raising her concerns about the way in which we dealt with her change in vehicle, which included a modification to the rear windows which had tinted privacy screens applied.
Insurers always ask that any modification from the original vehicle specification is notified to them so that they can assess whether these result in an increased risk of a claim.
Having reviewed [Sally]'s case, we can confirm that we will accept this type of modification without additional conditions. We have written to [Sally] to explain our position and to offer her £50 vouchers for dfordog.co.uk as a gesture of goodwill as a result of any inconvenienced caused.
Conclusion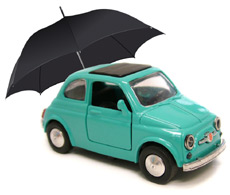 It is really reassuring to know that this type of car alteration is not something that could generally invalidate someone's car insurance policy. We all want our dogs to travel safely and in comfort. I think adding some kind of shade or privacy screen is something a lot of us do, to protect our dogs from the sun.
Sally was correct and very sensible to know the terms of her car insurance policy and to be aware that she needed to inform them of any changes to the car. Sally did the right thing.
We can see no reason why the addition of a tinted screen to keep the sun off the back window would invalidate someone's car insurance. It seems Ageas agrees and this was a bit of a hiccup in their systems or procedures.
It doesn't matter who your car insurance is with, our advise would be to do what Sally did - report any changes made to your car, no matter how cosmetic. All policies are different so you do need to check. If your insurance company gives the impression that this may invalidate your policy in any way, do question it.
By Jenny Prevel
© D for Dog www.dfordog.co.uk
This article belongs strictly to D for Dog and we do not authorise the copying of all or any part of it.
Useful product links