Christmas Gifts for Dogs
Wednesday, 7 October 2020 | D for Dog
It's that time of year when we all start trying to think of unique and fun Christmas gift ideas for our dogs. Well, it's great that you are here because we can help with that.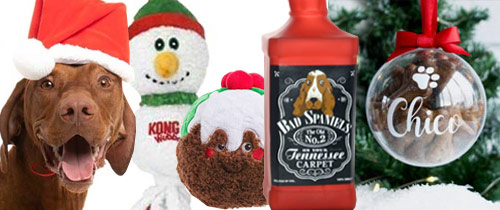 Whether your dog likes to rip that wrapping paper off and get involved or prefers to sit back and have their dog gifts unwrapped for them, nothing beats the excitement of Christmas gifts for your dog.
We have a range of dog related Christmas gifts that you are going to love. So sit back, put your feet up and let us inspire you.
Of course you can browse our entire online shop (we have everything dog related you could ever wish for) but in this blog I wanted to point you in the direction of some of our most popular gift ideas for dogs.
Whether you find it difficult to find Christmas dog gifts or you are looking for something special for the dog who has everything, we have some fantastic products to choose from. We will show you some great gift ideas followed by some specific Christmas themed gifts, if you really want to get the festive fun going.
Some of our products are hand made so don't leave it too late to order. We don't want any sad doggies on Xmas Day.
Happy shopping.
Christmas Themed Goodies
We have a great range of themed Christmas gifts which is reserved for all our Xmas themed items. From Christmas stockings and festive toys to Santa blankets and personalised bowls, we have something for every good doggie. The personalised tree baubles stuffed with treats are adorable or how about a special Xmas bandana or collar to wear on the big day. For more general Xmas gift ideas (not necessarily festive themed - see the section below).

Personalised Christmas Dog Bandanafrom: £7.20

Personalised Christmas Pet Blanketfrom: £16.00

Dog Treat Christmas Tree Baublefrom: £8.99

Personalised Christmas Dog Bowl - Snowflakefrom: £25.45

Santa's Little Squeakers Baublesfrom: £8.95

Christmas Flo The Flamingofrom: £12.45

Christmas Rocky The Reindeerfrom: £11.95

Tuffy Talulah Turkey Dog Toyfrom: £21.15

Personalised Christmas Dog Bowl - Straightfrom: £21.00

Christmas Fat Santa Dog Toyfrom: £11.95
Gifts for Dogs
Your dog may be dreaming of a sack of new toys from Santa but what else might they like? We have a great range of dog gifts. How about a personalised dog bowl, their very own bath towel or drying coat for when they get home from a wet walk or a cosy pair of pyjamas for winter evening snuggles. If your dog is a foodie, a stylish new treat jar could be just the thing or make their Xmas day with a personalised blanket to cuddle under or toy box for all their new goodies. Woof!

Personalised Wooden Double Dog Bowls Feederfrom: £24.99

Personalised Dog Blanketfrom: £16.00

Design Your Own Pet Tagfrom: £11.99

Tuffy Dog Toys - Barnyardfrom: £12.30

Personalised Wooden Dog Toy Boxfrom: £23.99

Personalised Dog Bed - Donutfrom: £49.99

Personalised Dog Bowls - Polka Slantedfrom: £25.45

Personalised Dog Toy Storage Bagfrom: £25.95

Luxury Personalised Dog Bandanafrom: £10.95

P&L Oval Softee Sherpa Fleece Dog Bedfrom: £56.95

Personalised Ceramic Dog Treat Jar - Dottyfrom: £23.00

Personalised Dog Bath Towelfrom: £10.95
We hope these gift ideas inspire you. Enjoy shopping and, as always, if you have any questions just ask.
We also have gift ideas for dog lovers - please see Christmas Gifts for Dog Lovers