Keep Your Dog Cool: Two Summer Essentials
7 Comments
Thursday, 16 August 2018 |
D for Dog
Keeping our dogs cool and comfortable becomes a priority in the summer and hot weather. Imagine being warm and you can't take your jumper off. Phew. That is what our dogs must feel like in their fur coats.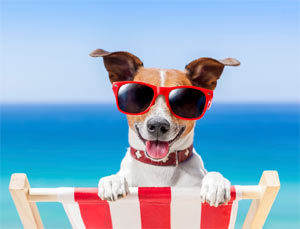 I want to tell you about two products that my dogs are so grateful for during the summer months.
Do dogs need help staying cool?
In warm weather, with their inability to sweat and of course wearing their fur coats, the answer is nearly always going to be yes. If your dog pants a lot in the summer, can't seem to find a cool place to rest, is having to go on shortened walks and seems a bit lethargic, a cooling accessory can help perk them up and feel more comfortable.
So what are the two summer essentials?
The two cooling products I would not be without for my dogs are a cool coat and a cool mat. Cool coats are often used outdoors during walks and the mats are often used indoors, but I have used both indoors and out. The mats can also be used in the car, on picnics etc... and the coats can also be worn indoors if the dog is panting and unable to get cool, and of course in the car (I mean a moving car. Never leave your dogs in a stationary car).
Dog cooling coats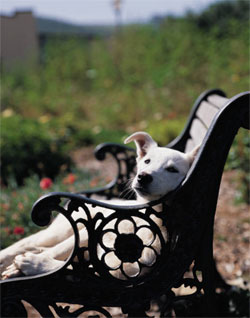 My number one essential summer dog accessory is a cool coat. If you can only buy one item for the summer to keep your dog cool then this would be it. They can be worn outside during walks and indoors too. They are not cheap, especially in the larger sizes, but at least it is only one initial outlay. The coat will last a number of years and all you need, once it is purchased, is water to activate the cooling effects. So if you averaged that cost out over the use it will get, I have no doubt you would consider it money well spent.
When you have hot day after hot day, you can't keep putting off the dog's walk... even if it is for their own good. They need to have their walk and they need to be able to do it safely. A cooling coat is the answer.
I did a little test one summer, when I first started using cool coats. During a dog walk on a hot day I watched my dogs carefully. Both were panting a bit and slowly mooching about. I popped their cooling jackets on them and within just a few minutes I could feel the cool on their backs, their panting reduced and they both visibly perked up and enjoyed more of their walk. I think I would like one for myself actually. Has anyone invented a cool cape for humans?
Anyway... back to dogs. In the old days my dogs had cool coats that were full of some sort of swelling crystal. This was not ideal for a coat as it made it quite heavy.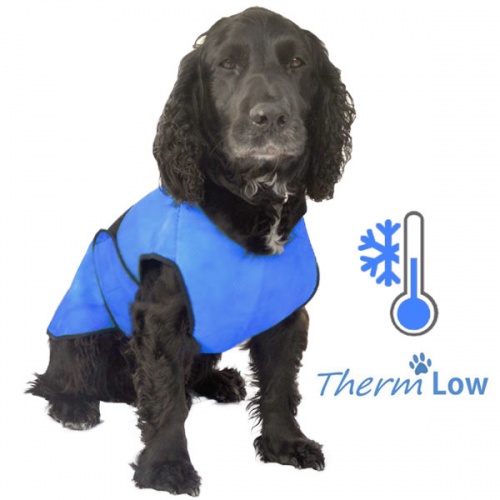 Luckily along came a new material that is ideal for a cool coat. My dogs have the ThermLOW dog cooling vest. I like them because they work by simple evaporation and are lightweight, even when soaked and in use, and they cool your dog really well. They also include chest coverage, which I haven't seen on any other cool coat. They do dry out eventually but you simply soak them again or pour a little water over to keep the cooling effects going. Perfect.
As I mentioned, I also use them indoors sometimes, if my dogs are feeling really hot but for indoors I have another product in my summer arsenal... the cool mat.
Dog cooling mats
I was never sure about getting one of these for my dogs but once I did there was no turning back. They love them. The search for the perfect mat took a little longer. They can be expensive and all quite different. We ended up trying four brands.
The first cooling mat we tried was a water filled one. There is no doubt my dogs loved the comfort. They are foam filled and then you also fill them with an extraordinary amount of water, so you can imagine the squashy comfort they provide. But unfortunately that also proved to be its downfall. The mats are heavy and shifting them out of the sun or from room to room is not easy. The seams developed leaks that sadly can't be mended (believe me I tried, lol).
On to mat number two, the Chillax cool pad looked promising but as soon as it arrived I felt disappointed. It was very hard and flat. I bought 4 and placed them in my dog's favourite sleeping areas (a great way to get dogs used to any new mat or bed, by the way) but my dogs simply won't lay on them, preferring the hard tiled floor.
Next we tried the Chillr. It is quite slim but offers enough comfort to make it a better place to rest than the hard floor. And the design is in sections (to keep the filling spread equally across the mat) so it also lends itself nicely to being folded up for when you want to move it or even when going on your travels. Unfortunately it was quite hard and lumpy in its solid state and its ability to liquify became less each year until it was no longer usable. Such a shame.
Then we tried the imac cool mats and whilst they offered more comfort than most, the cooling properties were a little lacking. I liked them but my dogs ended up voting with their feet and went back to the floor. On to the next mat we go...
The best cooling mat - recommended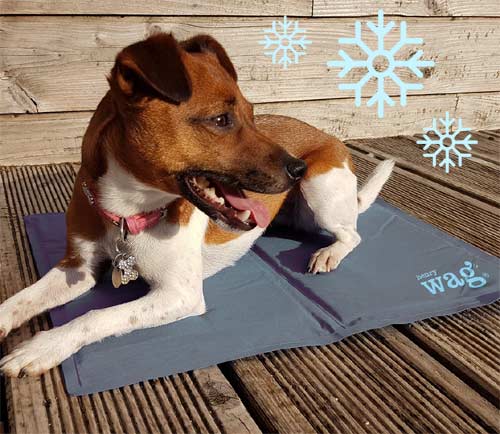 At last I have news of a cool mat I am totally thrilled with. After trying it myself (oh yes) and my dogs, I knew it was the best mat out there so I am excited to tell you about it.
The Padded Dog Cooling Mat by Henry Wag is slim, lightweight and portable and packs a real punch in the comfort and cooling department. It is soft and comfortable with just the right amount of squash and plenty of cooling. Inside is a layer of comfy foam (excellent idea) and the cooling gel inside is the perfect consistency - soft and fluid without being too watery or too flat and hard, like many mats we have tried. It also has seams for easy folding and storage.
I have no hesitation in recommending this cool mat as my number one choice. In the warmer weather my dogs are never off their cool mats. They adore them and I feel better knowing they are not laying on the floor to try to get cool.
Other summer cooling ideas
So those are my recommendations for two warm weather must-haves. But before I go I just wanted to mention one other thing my dogs love in the summer. They have their own floor fan. It goes on in the morning and is always available for them to lie in front of whenever they want a lovely cool breeze.

So that gives you an idea of what works for my dogs and has hopefully given you some ideas for things you can do to keep your own dogs happy, healthy and as cool as cucumbers. If I come across other summer essentials I'll definitely let you know.

For our full range, visit Dog Care Products.

By Jenny Prevel

© D for Dog www.dfordog.co.uk
This article belongs strictly to D for Dog and we do not authorise the copying of all or any part of it.